---
---
Electric Cars: The Basics
---
For those of you new to zero-emission electric driving, we recommend a read of the following articles:
---
Sign up to the e-zoomed Electric Living newsletter
---
The Ford Kuga PHEV SUV
---
Michigan based, Ford Motor Company, the US automotive manufacturer, stepped firmly into the fast evolving electric vehicle (EV) race with the unveiling of its 'new breed of Mustang', the all-electric Mustang Mach-e sport utility vehicle (SUV), ahead of the 2019 Los Angeles Auto Show.
Though Ford had commenced work on an electric vehicle model a few years ago, CEO James Hackett 'pulled the plug' and sent everyone back to the drawing board. Early indications suggest that the strategy to start afresh on creating a more compelling plug-in electric vehicle (EV) may have worked for Ford. The Mustang Mach-e is part of the US$11.5 billion Ford investment into electrification by 2022. The company aims to become a leader in clean transportation and become carbon-neutral by 2030.
Ford is hoping to leverage the iconic status of the 'Mustang' marque to make up for its late entry into the battery-electric vehicle (BEV) sector. Competitors from both, the traditional automotive sector and new entrants are already well ahead in the race. Munich based Volkswagen Group and California based Tesla Inc, are two such examples, well on their way to market domination in the zero-emission race. The electric vehicles (EVS) offered by Ford include:
The all-new Ford Kuga PHEV SUV
The Ford Tourneo Custom PHEV
The Ford Kuga compact SUV has been manufactured by Ford since 2008. The Ford Kuga is currently in its third generation, which was introduced in early 2019 and went on sale late 2019, to include the Kuga PHEV. The internal combustion engine (ICE) variant is available as an all-wheel drive (AWD) and front-wheel drive (FWD). The Kuga plug-in hybrid electric vehicle (PHEV) variant is only available as a front-wheel drive (FWD).
The Ford Kuga PHEV has much to offer those seeking lower-tailpipe emission electric driving, at a more affordable price. For families, the e-SUV offers much practicality and financial savings. Driving a PHEV on e-mode is much cheaper than driving an equivalent combustion engine variant. Electric driving can be as cheap as 10 cents per km. Given the continued escalation in fuel prices, electric driving is fast becoming the best option for private and business car ownership.
Moreover, the pairing of the petrol engine with an electric motor, improves the fuel economy of the electric vehicle. Ford claims that the Kuga plug-in hybrid SUV can achieve a fuel economy up to 1.1 l/100 km, again, substantially better than the equivalent petrol variant.
However, achieving an improved fuel economy in a plug-in electric vehicle, requires the EV driven on the electric mode on a regular basis. If the electric drivetrain, powered by the onboard EV battery is not leveraged, the financial savings from driving an EV will not materialise.
The Ford Kuga EV has a 14.4 kW onboard EV battery, with a claimed emission-free electric range up to 56 km. Expect the real-world EV range to be closer to 50 km. Nevertheless, sufficient electric range to meet most daily needs. Do keep in mind that 2/3rd of motorists drive a mere 50 km a day.
This should not come as a surprise, given that the majority of our day-to-day trips are to the local grocery store, gym, high street, school-runs etc. The efficiency of the EV is further enhanced by regenerative braking, so do take advantage of it while driving!
The Ford electric vehicle (EV) has a 3.7 kW onboard AC charger. Using a dedicated EV charging station, the PHEV can be charged within 3 hours. We at e-zoomed recommend charging an EV overnight, when the electricity tariff rates are more affordable.
We also recommend getting into a habit of 'topping-up' the EV battery on a regular basis. This way, you can use the pure electric mode more often, and it is also better for the overall maintenance of the EV battery. Ford offers a 8-year or 160,000 km warranty. The plug-in electric car does not offer DC charging compatibility.
In terms of performance, the front-wheel drive Ford Kuga plug-in hybrid will not set the heart racing, but the performance is certainly decent. The PHEV can achieve 0-100 km/h in 9.2 seconds (maximum power: 225 PS). The top speed of the EV is 201 km/h. The Ford Kuga plug-in hybrid pairs a 2.5-litre Duratec petrol engine with an electric motor. Of course, the EV also benefits from instant torque.
Despite the reduction in the boot space (581 L) due to the placement of the EV battery, the Kuga PHEV offers reasonable practicality for front and rear seat occupants, with ample headroom and legroom. The overall visibility and ease of driving is also good.
The EV also benefits from a Five-Star NCAP Safety Rating. Also on offer are a host of driving safety features, to include: personal driving assistant, adaptive cruise control, lane centring technology, lane keeping assistance and more.
The Ford Kuga plug-in electric SUV has far lower tailpipe emissions (32g CO2/km) compared to the petrol only variant (156g CO2/km). Bottom-line, electric driving is good good for the environment and for the wallet!
---
| | |
| --- | --- |
| An affordable PHEV SUV | Not as stylish or iconic as the Mach-e electric SUV |
| Cheap to drive on electric mode | Only available as a front-wheel drive (FWD) |
| Practical and spacious | Onboard charger limited to 3.7 kW |
---
Gallery
---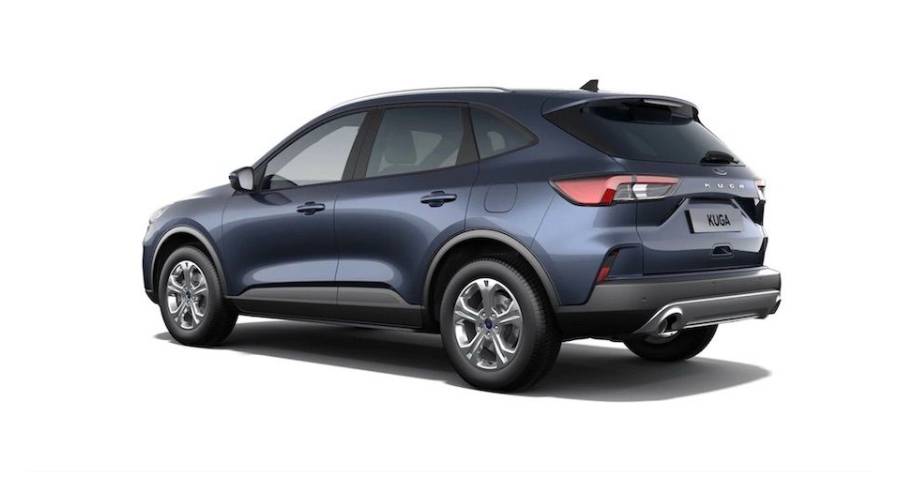 The All-Electric Ford Kuga PHEV SUV (credit: Ford)
---
| | |
| --- | --- |
| EV Type: | Plug-In Hybrid Electric Vehicle (PHEV) |
| Body Type: | SUV |
| Engine: | Petrol-Electric |
| Available In Ireland: | Yes |
---
Variants (3 Options)
Ford Kuga Titanium (from € 44,637)
Ford Kuga ST-Line/ ST-Line X (from € 46,611)
Ford Kuga Vignale (from € 51,346)
---
| | |
| --- | --- |
| EV Battery Type: | Lithium-ion |
| EV Battery Capacity: | Available in one battery size: 14.4 kWh |
| Charging: | DC charging not available. On board charger: 3.7 kW AC (0% – 100%: 3 hrs) |
| Charge Port: | Type 2 |
| EV Cable Type: | Type 2 |
| Tailpipe Emissions: | 32g (CO2/km) |
| Warranty: | 8 years or 160,000 km |
---
| | |
| --- | --- |
| Battery net capacity : 8.8 kWh | € 2.10 |
| Battery net capacity : 11.6 kWh | € 2.78 |
| Battery net capacity : 12.0 kWh | € 2.87 |
| Battery net capacity : 13.10 kWh | € 3.14 |
| Battery net capacity : 14.10 kWh | € 3.37 |
Note 1: The average cost of residential electricity in Ireland varies depending on the region, supplier and type of energy used. An average for Ireland is 23.97 cents/kWh.
Note 2: Not all EV manufactures make available the data on net EV battery capacity, and in a number of instances the EV battery capacity advertised, does not state if it is gross or net capacity. In general, usable EV battery capacity is between 85% to 95% of the gross available capacity.
---
| | |
| --- | --- |
| Slow charging AC (3 kW – 3.6 kW): | 6 – 12 hours (dependent on size of EV battery & SOC) |
| Fast charging AC (7 kW – 22 kW): | 3 – 8 hours (dependent on size of EV battery & SoC) |
| Rapid charging AC (43 kW): | 0-80%: 20 mins to 60 mins (dependent on size of EV battery & SoC) |
Note 1: SoC: state-of-charge
---
| | |
| --- | --- |
| Height (mm): | 1675 |
| Width (mm): | 1883 |
| Length (mm): | 4614 |
| Wheelbase (mm): | 2710 |
| Turning Circle (m): | 11.6 |
| Boot Space (L): | 581 |
---
| | |
| --- | --- |
| EV Battery Capacity: | 14.4 kWh |
| Pure Electric Range (WLTP): | 56 km |
| Electric Energy Consumption (kWh/100 km): | 15.8 |
| Fuel Consumption (l/100 km): | 1.0 – 1.1 |
| Charging: | DC charging not available. On board charger: 3.7 kW AC (0% – 100%: 3 hrs) |
| Top Speed: | 201 km/h |
| 0-100 km/h: | 9.2 seconds |
| Drive: | Front-wheel drive (FWD) |
| Max Power (PS): | 225 |
| Torque (Nm): | N/A |
| Transmission: | Automatic |
| Seats: | 5 |
| Doors: | 5 |
| Kerb Weight (kg): | 1,844 |
| Colours: | 7 |
| NCAP Safety Rating: | Five-Star |
---
History Of Electric Cars: Quick Facts
---
An electric vehicle (EV), also referred to as a battery-electric vehicle (BEV) is not a new invention or even an invention of modern times. Indeed, EVs were first developed more than a 100 years ago in the 19th century. Inventors from various countries, to include European countries and the United States, were the first to invest in electric motors and batteries. The first practical electric cars were built in the second half of the nineteenth century, with the first US electric car introduced in 1890.
Electric vehicles came into prominence in the early 1900's, a time when horse-drawn carriages were the primary mode of transportation. Archived black and white photographs from that period show famous avenues like Madison Avenue in New York city filled with horse-drawn carriages. In stark contrast, a similar photograph taken a decade later of Madison Avenue showed not a single horse-drawn carriage. Instead the avenue was filled with motor vehicles, a new invention. It was the beginning of man's love affair with cars that has lasted more than a century and still going strong.
However, the uptake of electric vehicles in the early 20th century was short-lived, as gasoline powered vehicles propelled by internal combustion engines (ICE) become the preferred mode of transportation. Bottom-line, manufactures chose internal combustion engines over electric cars in the early 1900s for various reasons, to include, the costs and production volumes.
It is not definitive as to where EVs were invented or to credit a single inventor. However, one known electric motor (small-scale) was created in 1828 by Anyos Jedlik, a Hungarian inventor, engineer, physicist and Benedictine priest. Hungarians and Slovaks still consider him to be the unsung hero of the electric motor.
Shortly after, between 1832 and 1839, a Scottish inventor Robert Anderson created a large electric motor to drive a carriage, powered by non-rechargeable primary power cells. Through the 19th century a number of inventors were inspired to develop electric motors to include, Thomas Davenport, an American from Vermont credited with building the first DC electric motor in America (1834). Unlike many of his contemporaries and other trying to build electric motors, Davenport did not have a background in either engineering or physics. In fact, he was a blacksmith.
Move forward a few decades and at the end of the 19th century, William Morrison created what is believed to be the first practical electric vehicle. Morrison, another American from Des Moines, Iowa, was a chemist who became interested in electricity. He build the first electric vehicle in 1887 in a carriage built by the Des Moines Buggy Co. His first attempt was not a great success. In 1890, he attempted again, with more success. 12 EVs were built using a carriage built by the Shaver Carriage Company.
The batteries were designed and developed by William Morrison. The vehicle had 24 batteries with an output of 112 amperes at 58 volts that took 10 hours to recharge. Available horsepower just under 4 horsepower. The vehicle could accommodate 6 individuals and had a top speed of 14 mph (22.50 km/h).
Morrison's success led to others also developing large-scale practical electric cars. At the turn of the century cities like New York had 60 electric taxis. The first decade witnessed strong popularity for electric vehicles. However the popularity was short-lived as internal combustion engine (ICE) gasoline powered vehicles replaced the early electric vehicles. Henry Fords success with the then ubiquitous Ford Model T was the 'beginning of the end' for electric vehicles. The Model T was cheaper than the prevailing electric cars (US$ 650 Vs US$ 1,750) and could be manufactured at scale. As they say — the rest is history.
---
While e-zoomed uses reasonable efforts to provide accurate and up-to-date information, some of the information provided is gathered from third parties and has not been independently verified by e-zoomed. While the information from the third party sources is believed to be reliable, no warranty, express or implied, is made by e-zoomed regarding the accuracy, adequacy, completeness, legality, reliability or usefulness of any information. This disclaimer applies to both isolated and aggregate uses of this information.
---
Featured Articles
---
---
Featured Products
---
---