---
---
Electric Car: The Basics
---
For those of you new to zero-emission electric driving, we recommend a read of the following articles:
---
Sign up to the e-zoomed Electric Living newsletter
---
Air Pollution: The Basics
---
Electric cars offer a number of benefits, among them, improving local air quality. Though a number of sources contribute to air pollution, transportation is a key cause of worsening air quality. It is estimated that road transportation contributed up to 30%. Other sources of air pollution include: power plants (electricity generation), oil refineries, factories, wood burning fireplaces, aviation, shipping and more! Of course, natural events, like an eruption volcano can increase pollution, but that is not in our control. However, man-made pollution can be controlled by us.
Pollutants are categorised as primary and secondary. Pollutant directly emitted into our atmosphere are primary pollutants, while secondary pollutants are formed in the atmosphere via chemical reactions. Key primary pollutants include:
---
Primary Pollutants:
Particulate matter (PM)
Black carbon (BC)
Sulphur oxides (SO2)
Nitrogen Oxide (NOX)
Ammonia (NH3)
Carbon monoxide (CO)
Methane (CH4)
---
More than 40% of emissions of nitrogen oxides is a result of emissions from road transportation. Up to 40% of primary PM 2.5 emissions are also are a result of transportation. Particulate matter (PM) is everything in the air that is not gas. Human made pollution life smoke and dust from car exhausts, brakes and tyres are examples of PM. Particulate matter is classified according to size. PM 2.5 is less than 2.5um (micrometers) and is the main type of PM which is regulated. PM significantly increases the risk to an individual, as PM can be transported around the body, impacting the lungs, heart, brain and other organs.
Worsening air quality, is not an issue that is restricted to Ireland. It is a global issues, as countries across the global combat the increasing health risks associated with higher levels of pollution. Nor is air quality a subject matter for just large city centres. It is just as relevant for smaller towns and villages. In fact, according to the World Health Organisation (WHO), in 2019, 99% of the world population was living in paces where WHO air quality guidelines were not met.
According to the European Environment Agency, "In 2020, exposure to concentrations of fine particulate matter above the 2021 World Health Organization guideline level resulted in 238,000 premature deaths in the EU-27. Air pollution also causes morbidity, whereby people live with disease — entailing both personal suffering and significant health care costs".
It is true, in that, during the initial Covid crisis, air quality had improved, but with life back to relative normality, air pollution has increased up to pre-pandemic levels. Air pollution increases the risk of heart disease, lung cancer, asthma and other chronic and acute respiratory disease. Though all are impacted by worsening air quality, the vulnerable, like, young children and the aged, are most at risk!
According to IQAir rankings, Ireland is ranked 98/118 countries in air pollution (2021). The top 5 most polluted countries in the world were, Bangladesh, Chad, Pakistan, Tajikistan and India. These countries had an average AQI over 150, compared to an average AQI of 33 for Ireland. So bottom-line Air Quality in Ireland is certainly better than most countries, but let's not be complacent. The lower the air pollution, the better the air quality for us all!
---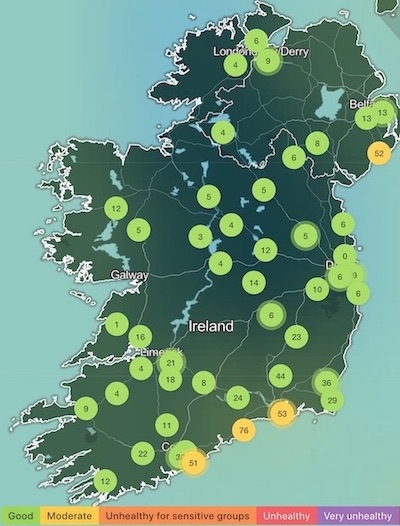 ---
It is true, in that, we cannot reduce emissions from transportation to zero, but we all can 'play our part' in reducing tailpipe emissions. Electric driving offers us a real and immediate solution to improve air quality.
Both, plug-in hybrid electric vehicles (PHEVs) and battery-electric vehicles (BEVs) help reduce air pollution. When a PHEV is driven in e-mode, the tailpipe emissions are zero, and BEVs, also referred to as pure electric cars, have zero-tailpipe emissions. In fact, BEVs don't even have a tailpipe/ exhaust, hence the expression, emission-free electric cars. Moreover, pure electric cars also reduce pollution from braking, as EVs use regenerative braking. In comparison, conventional petrol and diesel cars use disc brakes, which emits more particle pollution.
We at e-zoomed, encourage owners of electric cars to charge their EVs using green electricity. Most electric cars are charged at home and overnight, when the electricity prices are the lowest. By installing on-site residential solar generation, electric car owners can save money and also truly achieve 'well-to-wheel' zero-tailpipe emission electric driving. For those EV drivers that do not have access to on-site renewable energy generation, we recommend sourcing green electricity from a green energy supplier.
---
Best Ways To Reduce Air Pollution : Top Tips
Greater use of public transportation, like trains and buses, in particular, for shorter journeys.
Adopt an 'active lifestyle': walking, cycling etc. An active lifestyle offers many health benefits.
Use a car sharing scheme instead of personal car ownership. Most vehicles are parked for more than 80% of the time.
Where possible, try carpooling for daily commutes to work, school-run etc.
Migrate to electric driving, in particular, zero-tailpipe emission BEVs.
If driving a PHEV, keep the onboard EV battery charged and drive on 'electric mode' as often as possible.
Use green energy for powering your home. We encourage installing on-site solar of wind generation (for both residential and business buildings).
For those that cannot install on-site renewable energy generation, source power from your home via a green energy supplier.
For those using internal combustion engine (ICE) vehicles, do not leave the vehicle idling. Turn off the engine if the vehicle is stationary.
---
While e-zoomed uses reasonable efforts to provide accurate and up-to-date information, some of the information provided is gathered from third parties and has not been independently verified by e-zoomed. While the information from the third party sources is believed to be reliable, no warranty, express or implied, is made by e-zoomed regarding the accuracy, adequacy, completeness, legality, reliability or usefulness of any information. This disclaimer applies to both isolated and aggregate uses of this information.
---
Featured Articles
---
---
Featured Products
---