---
---
Electric Cars: The Basics
---
For those of you new to zero-emission electric driving, we recommend a read of the following articles:
---
Sign up to the e-zoomed Electric Living newsletter
---
The Mercedes-Benz C Class Saloon PHEV
---
Mercedes-Benz, simply known as Mercedes, is a leading global luxury automative manufacturer based in Germany. The company is headquartered in Stuttgart and is famed for its high quality passenger vehicles, to include the Mercedes-Maybach. However, the company is also a leader in manufacturing commercial vehicles, to include the plug-in Mercedes eSprinter commercial EV and the plug-in Mercedes eVito electric van.
Mercedes-Benz EQ is the sub-brand used by the company for its portfolio of battery-electric vehicles (BEVs), plug-in hybrid electric vehicles (PHEVs) and mild hybrids. The pure electric cars are branded as EQ, while the PHEVs are branded as EQ Power. The mild hybrid vehicles are branded as EQ Boost. The PHEV portfolio includes:
Mercedes C-Class Saloon PHEV
The Mercedes-Benz C Class compact premium saloon is currently in its fifth generation. It was first introduced in 1993. Since then, the saloon has gained popularity with company-car drivers. The Mercedes C Class is also available as a plug-in hybrid electric vehicle (PHEV).
The latest C Class plug-in electric car has much to offer those keen on migrating to lower mission electric driving, but keen on a PHEV as a first step. The C Class PHEV has a 25.4 kWh onboard EV battery, with a claimed zero-tailpipe emission range up to 107 km (WLTP certified). This is certainly impressive and above average compared to the pure electric range on offer from an average PHEV.
Of course, the real-world electric range will depend on a number of factors, to include: driving profile, speed, passenger load, weather and road condition etc. Assuming a 90 km electric range is more realistic and establishes the C Class PHEV as class-leading. The plug-in hybrid can be leveraged for both city and motorway driving. There is significant scope to take advantage of pure electric driving with this PHEV. The EV also benefits from regenerative braking to increase the zero-emission e-range.
Do keep in mind that driving the PHEV on the electric mode will result in lower tailpipe emissions and cost savings. Depending on where and when the EV is charged, the cost per km on electric mode is between 5 cents and 10 cents i.e. far cheaper than using the internal combustion engine (ICE).
Also impressive is the reduced tailpipe emissions of the C Class plug-in hybrid (13g CO2/km). Everyone benefits from reduced local air pollution. Of course, when the PHEV is driven on the pure electric mode, the tailpipe emissions are zero!
Mercedes claims a fuel economy up to 0.5 l/100km. Like real-world electric range, the real-world fuel economy will be impacted by a number of factors. Nevertheless, the EV offers class-leading efficiency. The key is to use the e-mode on a regular basis. The more the usage, the better!
The EV has a 11 kW (3 phase) onboard charger. As most homes in Ireland are limited to single-phase power supply, taking advantage of the 3-phase onboard charger will be a challenge for home charging. Having said that, charging the electric car via a dedicated residential EV charger, should have the EV fully charged in 3 hours 30 minutes. Of course, there is an opportunity to take advantage of 3-phase workplace charging. The EV also offers DC charging up to 55 kW DC. The EV can be charged 10%-100% in 20 minutes.
The rear-wheel drive Mercedes C Class plug-in hybrid pairs a 2.0-litre (4 cylinder) combustion petrol engine with an electric motor (95 kW). The 9-speed automatic transmission C300e PHEV delivers a combined system output up to 313 hp (550 Nm torque). The EV can achieve 0-100 km/h in 6.1 seconds. The petrol plug-in hybrid has a top speed up to 245 km/h. The electric saloon is also available as an all-wheel drive (AWD) variant.
As can be expected from Mercedes, the C 300e PHEV has a luxurious interior and technology-laden, to include: Mercedes-Benz User Experience (MBUX) – controlled via voice or touch input, the innovative infotainment system can over time even predict personal habits thanks to artificial intelligence. Other standard specifications include, active brake assist, blind spot assist, wireless charging, ambient lighting (staged – 64 colours), KEYLESS-GO starting function and high-resolution multimedia colour display.
The PHEV is practical for families and can comfortably seat adults in the rear seats (ample legroom and headroom). The boot space for the EV is smaller than the conventional internal combustion engine (ICE) variant, due to the EV battery. Nevertheless, the 315 litres available is practical.
Bottom-line, electric driving is good for the environment and the wallet!
---
| | |
| --- | --- |
| Impressive pure electric range | Exterior styling more traditional |
| Low tailpipe emissions | Boot space impacted by onboard EV battery |
| Good fuel efficiency for its class | Top trim is expensive |
---
Gallery
---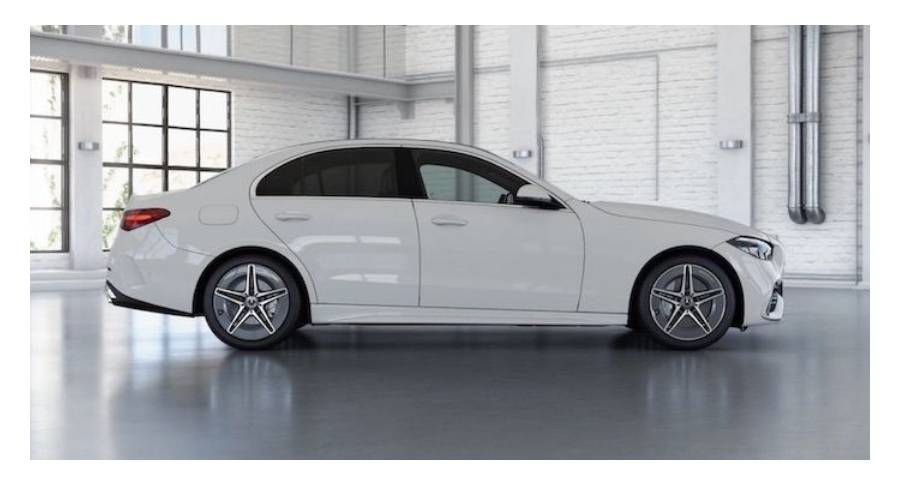 The Mercedes-Benz C Class Saloon PHEV (credit: Mercedes)
---
| | |
| --- | --- |
| EV Type: | Plug-In Hybrid Electric Vehicle (PHEV) |
| Body Type: | Saloon |
| Engine: | Petrol/ Electric |
| Available In Ireland: | Yes |
---
Variants (5 Options)
C 300 e (from € 83,375)
C 300 e 4MATIC (from € 86,017)
C 300 de (from € 87,334)
C 300 de 4MATIC (from € 89,962)
C 400 e 4MATIC (from € 89,972)
---
| | |
| --- | --- |
| EV Battery Type: | Lithium-ion |
| EV Battery Capacity: | Available in one battery size: 25.4 kWh |
| Charging: | 55 kW DC charging (0%-100%: 20 mins). Onboard charger 11 kW AC (10%-100%: 2 hrs) |
| Charge Port: | Type 2 |
| EV Cable Type: | Type 2 |
| Tailpipe Emissions: | 13g (CO2/km) |
| Warranty: | 6 years or 160,000 km |
---
| | |
| --- | --- |
| Battery net capacity : 8.8 kWh | € 2.10 |
| Battery net capacity : 11.6 kWh | € 2.78 |
| Battery net capacity : 12.0 kWh | € 2.87 |
| Battery net capacity : 13.10 kWh | € 3.14 |
| Battery net capacity : 14.10 kWh | € 3.37 |
Note 1: The average cost of residential electricity in Ireland varies depending on the region, supplier and type of energy used. An average for Ireland is 23.97 cents/kWh.
Note 2: Not all EV manufactures make available the data on net EV battery capacity, and in a number of instances the EV battery capacity advertised, does not state if it is gross or net capacity. In general, usable EV battery capacity is between 85% to 95% of the gross available capacity.
---
| | |
| --- | --- |
| Slow charging AC (3 kW – 3.6 kW): | 6 – 12 hours (dependent on size of EV battery & SOC) |
| Fast charging AC (7 kW – 22 kW): | 3 – 8 hours (dependent on size of EV battery & SoC) |
| Rapid charging AC (43 kW): | 0-80%: 20 mins to 60 mins (dependent on size of EV battery & SoC) |
Note 1: SoC: state-of-charge
---
| | |
| --- | --- |
| Height (mm): | 1442 |
| Width (mm): | 2033 |
| Length (mm): | 4751 |
| Wheelbase (mm): | 2865 |
| Turning Circle (m): | 11.07 |
| Boot capacity (L): | 315 |
---
| | |
| --- | --- |
| EV Battery Capacity: | 25.4 kWh |
| Pure Electric Range (WLTP): | 107 km |
| Electric Energy Consumption (kWh/100km): | 18.2 |
| Fuel Consumption (l/100km): | 0.5 |
| Charging: | 55 kW DC charging (0%-100%: 20 mins). Onboard charger 11 kW AC (10%-100%: 2 hrs) |
| Top Speed: | 245 km/h |
| 0-100 km/h: | 6.1 seconds |
| Drive: | Rear-wheel drive (RWD) |
| Electric Motor (kW): | 95 kW |
| Max Power (hp): | 313 (system output) |
| Torque (Nm): | 550 (system output) |
| Transmission: | Automatic |
| Seats: | 5 |
| Doors: | 4 |
| Kerb Weight (kg): | 2,080 |
| Colours: | 11 |
| NCAP Safety Rating: | Five-Star |
---
Electric Vehicles (EVs): Jargons
---
There is no doubt, in that, for those new to electric driving, the terminology can be both daunting and confusing. We have chosen a few jargons to help you get more familiar with electric vehicles (EVs)! We also recommend reading our article 'Electric Car Jargon Buster' for a more comprehensive list of terms.
| | |
| --- | --- |
| Alternating Current (AC): | What is alternating current? Though we may not be familiar with this term, we use alternating current everyday in our homes to power our appliances! Alternating current is a type of electric current, in which the direction of the flow of 'electrons' switches back and forth at regular intervals or cycles. When an electric car is charged at home, the type of electric current used, is alternating current. |
| Direct Current (DC): | What is direct current? Direct current (DC) is a type of electric current that flows in only one direction i.e. uni-directional. DC enables the constant flow of electrons from an area of high electron density to an area of low electron density. DC is quite common in our day-to-day lives. Many of the appliances we use on a regular basis that are operated by batteries, use DC. A mobile phone, a laptop, a torch light etc. In electric cars, the onboard EV battery also uses direct current to store energy. |
| Internal Combustion Engine Vehicle (ICEV): | What is an internal combustion engine car? Put simply, conventional petrol and diesel vehicles are powered by an internal combustion engine (ICE). These vehicles 'combust' fuel with the help of an oxidizer (typically oxygen from the air). These vehicles mostly use fossil fuels, like petrol, diesel, jet fuel etc. These vehicles are characterised by high tailpipe emissions, which pollute the local air. |
| One-Pedal Driving: | What is one-pedal driving? In one-pedal driving, the EV slows down or stops, when the pedal is released. One-pedal functionality reduce the need to use the brake pedal, for speed reduction or stopping. Of course, the brake pedal is still the best way to hold a vehicle in place at a complete stop. |
| Smart EV Charger: | What is a smart EV charger? A smart or 'intelligent' electric car charger, is a type of EV charger that enables smart functionality, to include, more control by the user, and communication between the EV charging station, the operator, the utility and the national grid. |
---
While e-zoomed uses reasonable efforts to provide accurate and up-to-date information, some of the information provided is gathered from third parties and has not been independently verified by e-zoomed. While the information from the third party sources is believed to be reliable, no warranty, express or implied, is made by e-zoomed regarding the accuracy, adequacy, completeness, legality, reliability or usefulness of any information. This disclaimer applies to both isolated and aggregate uses of this information.
---
Featured Articles
---
---
Featured Products
---