---
---
Electric Cars: The Basics
---
For those of you new to zero-emission electric driving, we recommend a read of the following articles:
---
Sign up to the e-zoomed Electric Living newsletter
---
The All-Electric Fisker Ocean SUV
---
Fisker Inc. is an early stage sustainability focussed electric vehicle (EV) company based in California. The company was co-founded in 2016 by Henrik Fisker. The company is unique, in that, its business model is based on outsourcing the manufacturing. Fisker has secured an agreement with Magna Steyr, an international auto supplier, that also manufactures vehicles. Fisker has also signed an agreement with Foxconn, to co-develop an electric vehicle.
Though Henrik Fisker is not as well known as Elon Musk, the co-founder of Tesla Inc., Henrik Fisker has also been an influential figure in the global automotive sector, with a strong track record as a car designer. His first EV company, Fisker Automotive (launched in 2007), had launched the Fisker Karma electric vehicle, one of the first production premium plug-in hybrids. Despite having sold more than 2,500 EVs, Fisker Automotive suspended trading in 2012. The business was purchased by a Chinese company, however, Henrik retained the Fisker trademarks.
The company is listed on the New York Stock Exchange (NYSE: FSR). In July 2020, Fisker Inc. announced an IPO on the NYSE via a merger with Spartan Energy Acquisition Corp, backed by the private equity firm Apollo Global Management. In October 2020, the company completed its reverse merger. The company currently has a market capitalisation of over USD$ 2 billion.
The EV manufacturer claims that is first all-electric SUV, the Fisker Ocean, is the 'world's most sustainable vehicle' and the 'world's greenest car'. The company is also developing other electric cars, to include, the Fisker Pear and the Fisker Ronin. The all-electric Pear is an urban centric EV, while the all-electric Ronin is a four-door convertible GT sports car.
In March 2019, Fisker announced its intention to launch a pure electric SUV, which was later named the Fisker Ocean. The Fisker Ocean concept vehicle was launched at the 2020 Consumer Electronics Show in Las Vegas. The 'production-intent' version of the new Fisker electric SUV was launched in November 2021 at the Los Angeles Motor Show.
The EV will is available in four variants, to include: the Fisker Ocean One (launch edition), Fisker Ocean Extreme, Fisker Ocean Ultra and the Fisker Ocean Sport. However, not all variants will be available in 2023. The Fisker Ocean One will be limited to 5,000 units globally. The EV is being manufactured in Graz, Austria.
The Ocean electric SUV is currently available in the 'hyper-range' EV battery option: 113 kWh (usable: 106.5 kWh). This positions the Ocean EV as class-leading in terms of EV battery size. In our list of electric cars with the longest range, the closest to the Ocean electric, is the all-electric Lotus Eletre.
The Lotus electric SUV has a 112 kWh onboard EV battery, with a claimed range up to 600 km (WLTP) i.e. much lower than the 708 km claimed for the Fisker Ocean SUV. Fisker also offers a class-leading EV battery warranty: 10 years or 160,000 km (75%). Only a few automotive manufacturers offer up to 10 years. More common is a 8 year or 160,000 km EV battery warranty (up to 70%).
Fisker offers an option for a smaller EV battery (Touring Range), which has a claimed 440 km on a single charge. This option is available on the entry-level Fisker Ocean Sport trim, which is a front-wheel drive (FWD) SUV. According to Fisker, 'the Ocean Sport strikes a balance of performance, range and affordability'. All other Ocean variants (Extreme, Ultra and One), are all-wheel drive (AWD) as standard.
The Fisker EV has a full-length SolarSky roof as standard, which combines as a sunroof and also a solar energy generator to further enhance the zero-emission electric range. The SolarSky is expected to produce between 2,400 to 3,200 additional km per year. Fisker is not the only EV manufacturer taking advantage of solar generation. Two other notable models are the all-electric Lightyear One and the Sion Solar Electric Car.
In terms of technology, the electric SUV is well equipped. Depending on the trim level, the following is on offer: blind spot monitoring, lane keep assist, emergency lane departure avoidance, traffic light/ sign recognition, intelligent speed assist, driver drowsiness and attention warning, parking assist, door opening incident warning, adaptive drive control and more! The EV is yet to secure a Euro NCAP rating.
The EV also incorporates the 'Revolve' 17.1″ touchscreen (not standard all all variants). Other features include: California mode (one button to open all eight glass panels of the SUV), ParkMyCar (an optional feature) and Limo mode. The EV is also equipped with the PowerHouse bidirectional on-board AC charger, capable of powering your home in an emergency. The company claims its 'PowerHouse' capability can power a home for up to 7 days! It also offers vehicle-to-load (V2L) compatibility, enabling you to power appliances and electronics using the onboard EV battery.
'Sustainability', the core brand theme is encapsulated in the choice of materials used for the pure electric SUV. The EV is designed to be the most 'sustainable SUV on earth', including a vegan interior, recycled plastics bottles, repurposed rubber waste, worn-out t-shirts and abandoned fishing nets! In terms of practicality, the five-door five-seats EV does not offer a frunk or a glove box. However, the boot space is 476 L.
The all-wheel drive (AWD) Fisker Ocean variants can achieve 0-100 km/h in 4.0 seconds (maximum power: 468 hp (564 hp w/Boost). The Boost mode is available on the Extreme and One variants. Depending on the variant, the EV offers up to three driving modes: Earth, Fun and Hyper. The EV also incorporates Smart Traction for some of the variants. Smart Traction helps increase the performance of the e-SUV. The towing capacity is 1,820 kg.
Bottom-line, electric driving is good for the environment and the wallet!
---
| | |
| --- | --- |
| Class-leading zero-emission range | Limited track record (first vehicle under production) |
| Attractive exterior styling to include solar enabled panoramic sunroof | Cheaper pure electric SUV alternatives available from established automotive manufactures |
| Good EV battery warranty | Options are expensive |
---
Gallery
---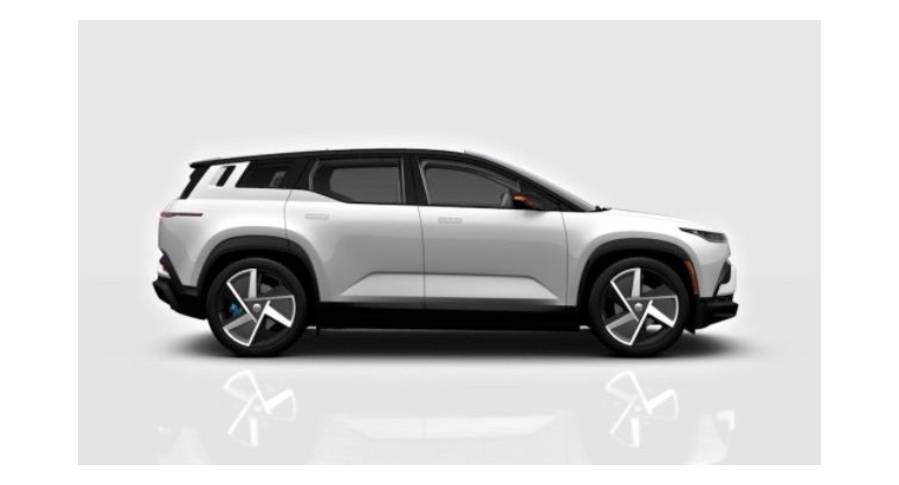 The All-Electric Fisker Ocean SUV (credit: Fisker Inc.)
---
| | |
| --- | --- |
| EV Type: | Battery-Electric Vehicle (BEV) |
| Body Type: | SUV |
| Engine: | Electric |
| Available In Ireland: | No |
---
Variants (4 Options)
Fisker Ocean One: Launch Edition (from € N/A)
Fisker Ocean Extreme (from € N/A)
Fisker Ocean Ultra (from € N/A)
Fisker Ocean Sport (from € N/A)
---
EV Battery & Emissions
EV Battery Type:
Nickel Manganese Cobalt (NMC)/ Lithium Iron
Phosphate (LFP)
EV Battery Capacity:
113 kWh
Charging:
250 kW DC charging (10%-80%: 33 mins). Onboard charger: 7 kW Standard (0%-100%: 12 hrs)
Charge Port:
Type 2
EV Cable Type:
Type 2
Tailpipe Emissions:
0g (CO2/km)
Warranty:
10 years or 160,000 km (75%)
---
| | |
| --- | --- |
| Battery net capacity: 16.7 kWh | € 4.00 |
| Battery net capacity: 30.0 kWh | € 7.19 |
| Battery net capacity: 39.2 kWh | € 9.39 |
| Battery net capacity: 45.0 kWh | € 10.78 |
| Battery net capacity: 50.0 kWh | € 11.98 |
| Battery net capacity: 64.0 kWh | € 15.34 |
| Battery net capacity: 71.0 kWh | € 17.01 |
| Battery net capacity: 77.0 kWh | € 18.45 |
| Battery net capacity: 90.0 kWh | € 21.57 |
| Battery net capacity: 100.0 kWh | € 23.97 |
Note 1: The average cost of residential electricity in Ireland varies depending on the region, supplier and type of energy used. An average for Ireland is 23.97 cents/kWh.
Note 2: Not all EV manufactures make available the data on net EV battery capacity, and in a number of instances the EV battery capacity advertised, does not state if it is gross or net capacity. In general, usable EV battery capacity is between 85% to 95% of the gross available capacity.
---
| | |
| --- | --- |
| Slow charging AC (3 kW – 3.6 kW): | 6 – 12 hours (dependent on size of EV battery & SOC) |
| Fast charging AC (7 kW – 22 kW): | 3 – 8 hours (dependent on size of EV battery & SoC) |
| Rapid charging AC (43 kW): | 0-80%: 20 mins to 60 mins (dependent on size of EV battery & SoC) |
| Rapid charging DC (50 kW+): | 0-80%: 20 mins to 60 mins (dependent on size of EV battery & SoC) |
| Ultra rapid charging DC (150 kW+): | 0-80% : 20 mins to 40 mins (dependent on size of EV battery & SoC) |
| Tesla Supercharger (120 kW – 250 kW): | 0-80%: up to 25 mins (dependent on size of EV battery & SoC) |
Note 1: SoC: state of charge
---
| | |
| --- | --- |
| Height (mm): | 1631 |
| Width (mm): | 1982 |
| Length (mm): | 4774 |
| Wheelbase (mm): | 2921 |
| Turning Circle (m): | 11.95 |
| Boot Space (L): | 476 |
---
| | |
| --- | --- |
| EV Battery Capacity: | 113 kWh |
| Pure Electric Range (WLTP): | 440 – 708 km |
| Electric Energy Consumption (kWh/100km): | N/A |
| Charging: | 250 kW DC charging (10%-80%: 33 mins). Onboard charger: 7 kW Standard (0%-100%: 12 hrs) |
| Top Speed: | 205 km/h |
| 0-100 km/h: | 4.0 seconds |
| Drive: | All-wheel drive (AWD) |
| Max Power (HP): | 468 (564 w/Boost) |
| Torque (Nm): | 696 (736 w/Boost) |
| Transmission: | Automatic |
| Seats: | 5 |
| Doors: | 5 |
| Weight (kg): | 2,433 |
| Colours: | 14 |
| NCAP Safety Rating: | N/A |
---
Vehicle-to-Grid (V2G): An Introduction
---
V2G is an innovative bidirectional technology that allows the onboard EV battery to be charged and discharged i.e. electrical energy to be exported/ discharged from the onboard EV battery to the grid via a V2G compatible EV charger. It also allows for vital informational flow (data) to the grid. In effect, the V2G technology allows an EV battery to be used as a grid-connected energy storage unit.
---
| Benefits: V2G | |
| --- | --- |
| Lower energy costs: | V2G can lower utility costs to include, lowering wholesale and retail energy costs |
| Improving the grid's response ability: | V2G can improve the stability of the intra-day supply and demand needs, improving the grids ability to meet the needs of peak demand |
| Improving power quality: | V2G can improve power quality by controlling voltage and power factors |
| Increase resilience: | V2G can improve the resilience of the grid and electricity network in significantly adverse conditions |
| Increase use of renewable energy: | V2G enables an increase in the contribution of renewable energy to the national energy generation mix. The higher the contribution of RE, the greener the power supplied |
| Reduce cost of EV ownership: | V2G can reduce the cost of EV ownership by enabling EV owners to earn from exporting energy to the grid |
| Improves national energy security: | V2G can improve the national energy security of a country by reducing dependence on imported energy |
| Improve environmental impact: | V2G can improve the environmental impact of energy usage and transportation by reducing the dependence on fossil fuels |
---
While e-zoomed uses reasonable efforts to provide accurate and up-to-date information, some of the information provided is gathered from third parties and has not been independently verified by e-zoomed. While the information from the third party sources is believed to be reliable, no warranty, express or implied, is made by e-zoomed regarding the accuracy, adequacy, completeness, legality, reliability or usefulness of any information. This disclaimer applies to both isolated and aggregate uses of this information.
---
Featured Articles
---
---
Featured Products
---