---
---
Electric Cars: The Basics
---
For those of you new to zero-emission electric driving, we recommend a read of the following articles:
---
Sign up to the e-zoomed Electric Living newsletter
---
The All-Electric Fiat 500 Convertible
---
Fiat Automobile S.p.A. is a subsidiary the Netherlands based Stellantis N.V., which was formed by the merger of Fiat Chrysler Automobiles (Italian/ American) and Groupe PSA (French). You may not be familiar with these names, but the automotive brands in the portfolio would be well known to most consumers. These include: Maserati, Opel, Peugeot, Jeep, Vauxhall, Alfa Romeo etc.
Fiat continues to remain the largest automotive manufacturer in Italy, but also has manufacturing locations globally, with Brazil as the largest international production site. Fiat Automobiles has been recognised in Europe for the lower emission footprint of its vehicles and has been ranked as the lowest level of CO2 emissions by vehicles sold in Europe. The all-electric NEW 500 is leading the transition for the Italian manufacturer to zero-emission electric driving.
The Fiat 500 electric car has its roots in the classic 1957 Fiat 500, a car that has been hugely successful and iconic (sold more than 2 million cars globally). The Fiat 500 EV is bigger than the internal combustion engine (ICE) car: 6 cm in width and length, 22mm longer wheelbase.
The Fiat EV is available as a hatchback and convertible. For those keen on style, an infinite headroom and a keenness to make the most of the sunshine, the convertible is better suited! Of course, the convertible is priced higher than the hatchback.
The Fiat convertible electric car is available in one EV battery size: 42 kWh with a claimed zero-emission electric range up to 320 km (WLTP). Of course, the real-world electric range will be lower, impacted by a number of factors, to include: driving profile, weather conditions, passenger load, tyre size, onboard services used etc. Expect a real-world e-range closer to 280 km. More than suitable for the majority of driving needs. The EV has a Sherpa mode that saves energy by optimising battery charge, air conditioning, speed and acceleration.
The Fiat electric car offers DC charging capability up to 85 kW DC (0%-80%: 35 mins). Put another way, in a mere 5 minutes, up to 50 km range can be achieved. The EV incorporates a 11 kW AC (3-phase) onboard charger as standard.
For those with access to three-phase charging at home or the workplace, the 42 kWh EV battery can be fully charged in 4 hours and 15 minutes. Do keep in mind that most homes in Ireland are powered by a single-phase power supply (7.4 kW), resulting in longer charging times.
Though the Fiat pure electric car can be charged via a domestic 3-PIN socket, we at e-zoomed discourage the use of a domestic socket to charge an electric car. It would take up to 15 hours and 15 minutes to charge the 42 kWh battery. We encourage charging an electric car using a dedicated EV home charging station like myenergi zappi.
The Fiat electric car does not disappoint in terms of its exterior iconic appeal and its interior is just as appealing. The electric convertible includes a host of features: intelligent adaptive cruise control, urban blind spot, drone view (360° parking sensors), rear view parking camera, autonomous emergency braking, traffic sign recognition and speed advisor, attention assist, lane keep assist, emergency call and more. The EV also offers a 10.25″ infotainment display and compatibility with Apple Car Play and Android Auto.
In terms of practicality, for urban driving, its compact size and turning circle are certainly useful. However, the rear seats are a tight squeeze and the boot space limited to 185 L. Given the fabric roof, expect more noise in the cabin, compared to the hatchback body style.
Despite the additional weight of the EV battery (294.3 kg), the front-wheel drive Fiat 500 e can achieve 0-100 km/h in 9 seconds. The maximum power is up to 118 hp (220 Nm) and a 150 km/h top speed. The EV offers One Pedal driving: with just one pedal you can accelerate and decelerate, recovering kinetic energy to recharge the EV battery.
Bottom-line, electric driving is good for the environment and the wallet!
---
| | |
| --- | --- |
| DC charging up to 85 kW | Rear seats with limited legroom |
| Good electric range | More expensive compared to the hatchback |
| 11 kW onboard charger as standard | Small boot space (185 L) |
---
Gallery
---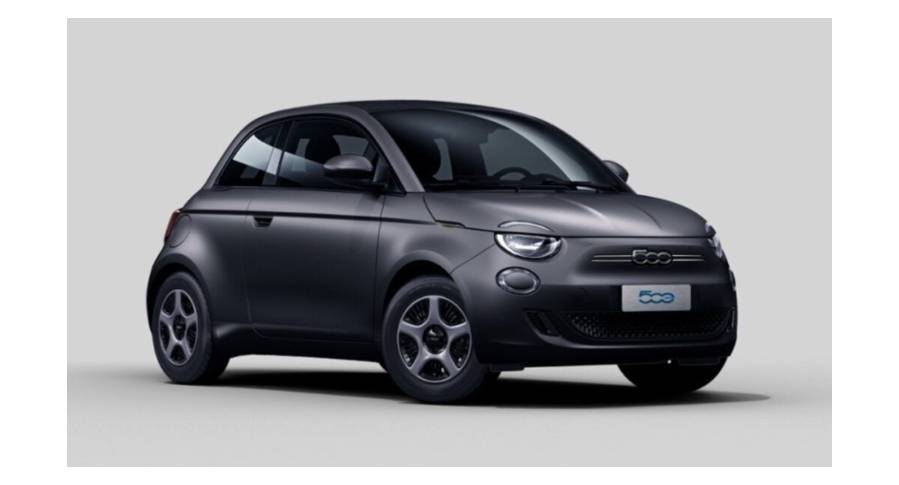 The All-Electric Fiat 500 Convertible (credit: Fiat)
---
| | |
| --- | --- |
| EV Type: | Battery-Electric Vehicle (BEV) |
| Body Type: | Cabrio (convertible) |
| Engine: | Electric |
| Available In Ireland: | Yes |
---
Variants (2 Options)
500 Icon (from € 32,495)
500 La Prima (from € 37,495)
---
| | |
| --- | --- |
| EV Battery Type: | Lithium-ion |
| EV Battery Capacity: | Available in one size: 42 kWh |
| Charging: | 85 kW DC Fast Charging (0%-80%: 35 mins). 11 kW AC onboard charger (0%-100%: 4 hrs 15 mins) |
| Charge Port: | Type 2 |
| EV Cable Type: | Type 2 |
| Tailpipe Emissions: | 0g (CO2/km) |
---
| | |
| --- | --- |
| Battery net capacity: 16.7 kWh | € 4.00 |
| Battery net capacity: 30.0 kWh | € 7.19 |
| Battery net capacity: 39.2 kWh | € 9.39 |
| Battery net capacity: 45.0 kWh | € 10.78 |
| Battery net capacity: 50.0 kWh | € 11.98 |
| Battery net capacity: 64.0 kWh | € 15.34 |
| Battery net capacity: 71.0 kWh | € 17.01 |
| Battery net capacity: 77.0 kWh | € 18.45 |
| Battery net capacity: 90.0 kWh | € 21.57 |
| Battery net capacity: 100.0 kWh | € 23.97 |
Note 1: The average cost of residential electricity in Ireland varies depending on the region, supplier and type of energy used. An average for Ireland is 23.97 cents/kWh.
Note 2: Not all EV manufactures make available the data on net EV battery capacity, and in a number of instances the EV battery capacity advertised, does not state if it is gross or net capacity. In general, usable EV battery capacity is between 85% to 95% of the gross available capacity.
---
| | |
| --- | --- |
| Slow charging AC (3 kW – 3.6 kW): | 6 – 12 hours (dependent on size of EV battery & SOC) |
| Fast charging AC (7 kW – 22 kW): | 3 – 8 hours (dependent on size of EV battery & SoC) |
| Rapid charging AC (43 kW): | 0-80%: 20 mins to 60 mins (dependent on size of EV battery & SoC) |
| Rapid charging DC (50 kW+): | 0-80%: 20 mins to 60 mins (dependent on size of EV battery & SoC) |
| Ultra rapid charging DC (150 kW+): | 0-80% : 20 mins to 40 mins (dependent on size of EV battery & SoC) |
| Tesla Supercharger (120 kW – 250 kW): | 0-80%: up to 25 mins (dependent on size of EV battery & SoC) |
Note 1: SoC: state of charge
---
| | |
| --- | --- |
| Height (mm): | 1527 |
| Width (mm): | 1900 |
| Length (mm): | 3632 |
| Wheelbase (mm): | 2322 |
| Turning Circle (m): | 9.3 |
| Boot Space (L): | 185 |
---
| | |
| --- | --- |
| EV Battery Capacity: | 42 kWh |
| Pure Electric Range (WLTP): | 299 – 320 km |
| Electric Consumption (kWh/100km): | 14.4 |
| Charging: | 85 kW DC Fast Charging (0%-80%: 35 mins). 11 kW AC onboard charger (0%-100%: 4 hrs 15 mins) |
| Top Speed: | 150 km/h |
| 0-100 km/h: | 9 seconds |
| Drive: | Front-wheel drive (FWD) |
| Electric Motor (kW): | 87 |
| Max Power (hp): | 118 |
| Torque (Nm): | 220 |
| Transmission: | Automatic |
| Seats: | 4 |
| Doors: | 3 |
| Kerb Weight (kg): | 1405 |
| Colours: | 4 |
| NCAP Safety Rating: | Four-Star |
---
The Pros For Electric Cars
---
| | |
| --- | --- |
| Pros: Electric Vehicles (EVs) | |
| Lower air pollution: | One can never overestimate the negative impact of air pollution on the health of individuals, in particular, the vulnerable i.e. the children and the elderly. In Ireland, we have witnessed a significant increase in air pollution over the past decade, and yes, petrol and diesel tailpipe emissions have contributed to the worsening air quality across all our villages, towns and cities. Road transportation, though not the only source of pollutants, is a leading source, contributing up to 30%. Electric vehicles help reduce tailpipe emissions i.e. leading to improved air quality. Pure electric cars have no tailpipe, hence the expression 'zero-tailpipe emissions' or 'zero-emissions'. PHEVs do have tailpipe emissions, given the hybrid nature of the vehicle (ICE and electric), but have far lower emissions than a conventional petrol or diesel car. Moreover, when a PHEV is driven on electric mode, the tailpipe emissions are zero! So bottom-line, both BEVs and PHEVs help improve air quality! |
| Lower running costs: | It is a misconception that electric cars are more expensive than petrol and diesel cars. In fact, when electric cars costs are assessed on a life cycle basis, it is clear that EVs are cheaper to drive per km than internal combustion engine (ICE) vehicles. For a start, charging an EV battery can cost as little as 5 €, and in most cases less than 10 €. However, refuelling a tank of fuel can cost up to 120 € (if not more!). An EV costs between 5 and 10 cents per km to drive, significantly lower compared to the cost of driving a petrol or diesel car. |
| Lower maintenance costs: | This is applicable only for BEVs. Pure electric cars have far fewer moving parts compared to an internal combustion engine (ICE) and therefore there is less that can go wrong i.e. lower maintenance costs. |
| Lower risk of breakdown: | Given the fewer moving parts in an electric car, it is not surprising that EVs have a lower probability for a breakdown compared to petrol or diesel vehicles. Most EV drivers have become astute at 'topping up' the EV battery on a regular basis to avoid the risk of being stranded due to an empty EV battery, one of the reasons for seeking breakdown assistance. |
| Convenience of charging at home: | Convenience: an EV can be charged at the convenience of your own home or office (no need to visit a petrol station!). In fact, most EVs are charged overnight at home, when the energy prices are the cheapest! |
| Lower energy price volatility: | EV charging costs have a lower price volatility and lower risk of price inflation, compared to petrol prices (petrol prices continue to negatively impact household finances as fuel prices increase). |
| Solar panels can significantly reduce charging costs: | Residential solar panels can be used to lower the cost of charging. Using residential PV solar, the cost of generating and consuming electricity is nominal, if not free (apart from the upfront costs). Both residential and commercial solar installations (for business premises) are ways to hedge against energy price inflation and achieve 'well-to-wheel' zero-tailpipe emissions. |
| Lower noise pollution: | In general, electric cars are silent with an in-built artificial noise generator primarily for pedestrian safety. The lower noise from EVs help improve the quality of our living environment, in particular, those living close to busy roads and thoroughfares. |
| Instant torque: | Yes, electric vehicles (EVs) have better torque performance than internal combustion engines, hence the 'torqueof the town'! If in doubt, look at a traffic light that has both these types of cars. As the signal changes to green, the electric car will quickly leave behind the diesel and petrol cars. The primary reason for the superior acceleration in electric cars, is that, electric vehicles deliver 'peak or maximum torque' instantaneously, producing immediate acceleration. However, petrol and diesel cars take time to reach maximum or peak torque. In particular, diesel cars are known for being sluggish. Bottom-line, the better torque performance of electric cars, further contributes to the 'fun factor' in driving EVs compared to conventional cars. |
| Better for the environment: | Yes, apart from air pollution, in general, electric vehicles are better for the environment, given the lack of dependence on polluting fossil fuels. |
---
The Cons For Electric Cars
---
| | |
| --- | --- |
| Cons: Electric Vehicles (EVs) | |
| Retail prices expensive: | It is true, in that, EVs are still expensive in regards to the retail price, compared to an equivalent petrol/ diesel car. However, the past few years has witnessed a reduction in the prices for EVs, along with the emergence of many affordable EV models. Moreover, aspiring owners of EVs have been able to take advantage of public grants. In our view, as the EV sector continues to mature with increased manufacturing volumes, consumer will gain from the inevitable price reduction as a result of the increased economies of scale. Moreover, the best way to acquire a car, is usually through a competitive financing plan like a lease, contract hire etc, making the acquisition of an EV affordable for many. |
| Limited DC charging infrastructure: | Though 80% of EV charging is done overnight at home, public EV charging infrastructure remains a focal point for debates and aspiring/ current owners of EVs. In Ireland the public EV charging network is growing (2,000 charging points, mostly in urban areas). However, we agree that rapid DC charging infrastructure still needs to be deployed more widespread, helping EV drivers achieve a 0% – 80% EV battery charge in under 30 minutes. |
| Limited choice of EVs: | There is no doubt that there has been a significant increase in the number of electric vehicles (EVs) that have been introduced over the past three years. However, the number of available pure electric cars are still limited in comparison to petrol and diesel vehicles. As global automotive manufacturers ramp-up the development and production of EVs, we expect the 'consumer choice' to widen significantly. |
| Limited availability of used EVs: | Given the relatively nascent nature of the EV sector, it is not surprising that the used electric car market is still very small. We do expect the used EV marketplace to improve significantly in the coming years, giving aspiring EV owners a vast choice at competitive prices. |
---
Featured Articles
---
---
Featured Products
---